12/01/16
Studio Visit Magazine
Two paintings - Stop (48"x24") and Everyman (60"x40") - have been selected for publication in Studio Visit, volume 36. Seven hundred and eighty two artists applied to the competition and of them, two hundred sixty seven artists were selected for publication. Jessica Roscio, of the Danforth Art Museum in Framingham, MA curated volumes 35 and 36 of Studio Visit.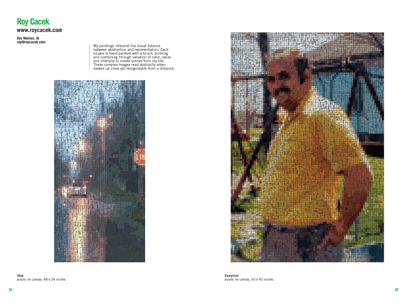 "The artists featured in Volumes 35 and 36 represent a wide range of aesthetic viewpoints that I think accurately capture the pluralistic time we live in. Some of the artists featured in Studio Visit are self-taught, while others hold graduate degrees. Some have shown extensively, while others are at the beginning of their careers. Regardless of their respective backgrounds, all of the artists featured in Studio Visit are serious about and committed to their work," says publisher Steven Zevitas.
Studio Visit, produced by Open Studio Press, is distributed to a total of two-thousand galleries, museum curators, and art aficionados throughout the country.
05/24/16
Cacek Exhibits at ISU Memorial Union
Light, Color, Form is the title of Roy Cacek's solo exhibition at the Iowa State University Memorial Union Gallery. The exhibit will run from May 24 through July 10, 2016.
06/26/13
DSM Arts eNewsletter
A nice write-up by Chad Michael Cox in the monthly newsletter for DSM Magazine in a featured section called The Artist's Way.
05/24/13
Des Moines Arts Festival Selects One Professional Artist
from Des Moines
FOR IMMEDIATE RELEASE
DES MOINES - Roy Cacek's representational abstract art, sometimes called "painted pixels," is certainly unique, but it's more than his creativity that makes him one of a kind at this year's Des Moines Arts Festival, it's also his address: Cacek is the only Des Moines-based professional artist selected to participate this in this year's show.
"There are a number of other metro artists who will be there, but I am the only one who lives and works in Des Moines," Cacek said. "I think it's a coincidence, as there are many excellent artists living in Des Moines, but I am very proud to represent the city's professional artists this year."
Cacek said that setting up for art festivals is sometimes difficult for artists, so he does not apply for many, but the quality of the Des Moines event led him to want to participate.
"There are many resources needed to do it correctly; it's far easier to have a gallery show," Cacek said. "But Des Moines' art scene is really coming on strong in terms of number of artists and quality."
Cacek's grid-based work looks rather abstract when standing close, but when one steps back, one sees an overall image created by the individually painted squares. He creates his work based on photographs of people he's met or places he's visited or other images he finds compelling.
"My work can be seen in private and corporate collections throughout North America," Cacek said. "The largest paintings work well in spaces where people can stand far enough back for perspective, while smaller pieces are more suitable for residential environments."
The Des Moines Arts Festival continues to grow into a major force in the arts scene, drawing more than 1,104 applications from both professional and emerging artists. Out of those applications, 191 professionals and 20 emerging artists are selected to display their craft. More than 200,000 people are attracted to the festival in downtown Des Moines, held this year from Friday, June 28 to Sunday, June 30.
"It really is an honor to be selected," Cacek said. "Even more so when I consider the fantastic artists that are based right here in Des Moines. It's important to me that I represent all of us well."
Cacek's booth will be at GN55C on the northwest corner of Grand Avenue and 12th St - one of the first booths visitors will see when entering the festival from the Grand Avenue entrance. Prices for his work begin at $150 and vary depending on size. To view examples of Roy's paintings, visit www.roycacek.com.
###